Tone Canal Billiken Shrine in Nagareyama, Japan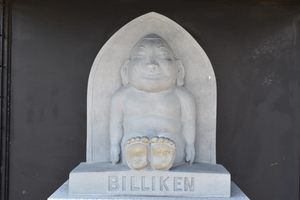 Billiken is one of the many iconic mascots of Osaka, alongside the Glico marathon runner and the gigantic crab. Also called Billiken-san, this narrow-eyed dwarf with an onion-shaped head is said to be a lucky god, particularly revered by merchants who believe that rubbing the feet of his effigy brings you good luck. While he is well-known across Japan, it often goes unmentioned that he does not originate in Japan, but in Kansas City, Missouri.
Billiken, the "god of things as they ought to be," was designed circa 1907-1908 by illustrator Florence Pretz for her friend Sarah Hamilton Birchall's stories published in The Canada West magazine. He instantly proved to be a hit, exceptionally profitable (except to the designer herself, much to her chagrin). Billiken statuettes were warmly received in Alaska and the Russian Far East, and accepted as part of the indigenous mythologies. He is also remembered today as the school mascot of St. Louis University.
In Japan, Billiken was introduced around 1909 and patented in 1911 by Tamurakoma, a textile company based in Osaka, which used the character for advertisements. His popularity was insane, especially after a Billiken statue was installed in the Luna Park amusement park in Shinsekai, Osaka. Though the original went missing following Luna Park's closure in 1923, a replacement has sat enshrined in Shinsekai's landmark Tsutenkaku Tower since 1979.
Osaka may be the center of Billiken worship (or commercialization) today, but there remains several statues throughout Japan, thanks perhaps to its affinity for good luck. Incidentally, Pretz is known to have been strongly influenced by East Asian art, fascinated by Japanese culture in particular.
One of the most overlooked and important shrines of Billiken in Japan can be found in Nagareyama, a city in Chiba Prefecture that lies more or less an hour north of Tokyo. Located on the roadside beside the Tone Canal, the tiny shrine was installed in 1913 by Shigeo Morita, the head of the Tone Canal Company. It had stood the test for over a century until 2018, when a yet-to-be-identified vandal desecrated it, knocking it down and damaging its face.
The original Billiken statue was soon repaired and sent to the Nagareyama City Museum, where it is exhibited today. Though it's encased in glass, visitors are encouraged to rub his luck-bringing feet through an opening. On the site of his shrine now sits a replacement made from tin, a silver-colored Billiken to rival the golden Billiken of Osaka. Visitors may leave a coin or two as an offering and rub his feet for good luck.